Mexico is deceptively huge. And unlike a lot of the world's biggest countries (Russia, Canada, and the USA – because of Alaska) it's not just a frozen wasteland. Pretty much every part of the country is inhabited, and pretty much every part of the country has things going on. In fact, a trip to Mexico without a guide wouldn't just be foolish – because you'd miss out on so much – it would be downright intimidating!
The best way to see Mexico is to make more than one trip - trust me. Explore and get in some adventure, but leave time to relax. You can't possibly get it all in during one trip. Trust that this warm, wonderful country will be calling you back, and that you'll return.
That said, here are our top places to visit and things to do in Mexico.
Places to Visit in Mexico
Oaxaca City
The city of Oaxaca (pronounced wah-HAH-kah), in the interior of Mexico, is nestled where three river valleys meet. It's surrounded by the rugged mountain peaks of Sierra Madre del Sur, Sierra Madre de Oaxaca and Sierra Atravesada. The central valleys of the state of Oaxaca have been inhabited for more than 10,000 years.
Oaxaca is especially well-known for its distinctive artisan tradition, which produces pottery, handwoven rugs and textiles, wood carvings and other regional crafts. And, the food! So many flavors and rich culinary history within and around the city.
The city is also known for it's festivals and celebrations. The most notable being Holy Week, the Guelaguetza in July, Días de los Muertos in November, and the Night of the Radishes and Christmas in December.
Bacalar
There is nothing like the sight of the Seven Color Lagoon in Bacalar. This sleepy little town is a departure from the hustle and hype of Cancun, Playa del Carmen, and Tulum. For those looking for a low-key destination along the coast, this place is worth traveling a little further south. It's been nicknamed "the Maldives of Mexico."
You won't find huge resorts or palatial hotels in Bacalar. You will find eclectic, intimate, locally owned and operated inns (posadas), guest houses, and private rentals. Book a boat tour, rent a bike, and enjoy take a siesta in a hammock suspened over the water.
Riviera Maya
This whole beach – from Isla Holbox to Cancún to Tulum – is worth a stay of a week, or maybe even a month. The sand is spotlessly white, and coconut palms abound. After all, this is the Caribbean!
The Caribbean coast – and the Yucatán Peninsula – is a wonderland of pristine beaches and beautiful jungles, mystical Mayan ruins and sinkholes filled with water where you can plunge in for a swim. Even if you visit nowhere else in the country – Riviera Maya is a must!
Mexico City
Once the Aztec capital of Tenochtitlan, this mountain city – the country's most populous – is loaded with culture and history. Aztec sites and ruins, fantastic food, and world-class hotels. Don't miss the Palace of Fine Arts and the Basilica of Our Lady of Guadalupe. And consider a food tour – where you'll be introduced to Mexico's finest.
One thing to know is that Mexico City is at a high elevation – 2,240 meters, or 7,350 feet. If you've ever had shortness of breath, keep this in mind before you sign up for any extreme sports in the city!
Los Cabo
The area known as Los Cabos is comprised of two cities -Cabo San Lucas and San Jose del Cabo- and a cooridor. El Arco is the iconic landmark that distinguishes Cabo.
In Los Cabos, you can ride a camel, a horse, or an ATV. You can go deep-sea fishing or zip lining through the jungle. You can experience tantalizing food at Michelin-starred restaurants or street-side carritos (food carts). You can dive into history or chill in the glitz. You'll want to come back again and again.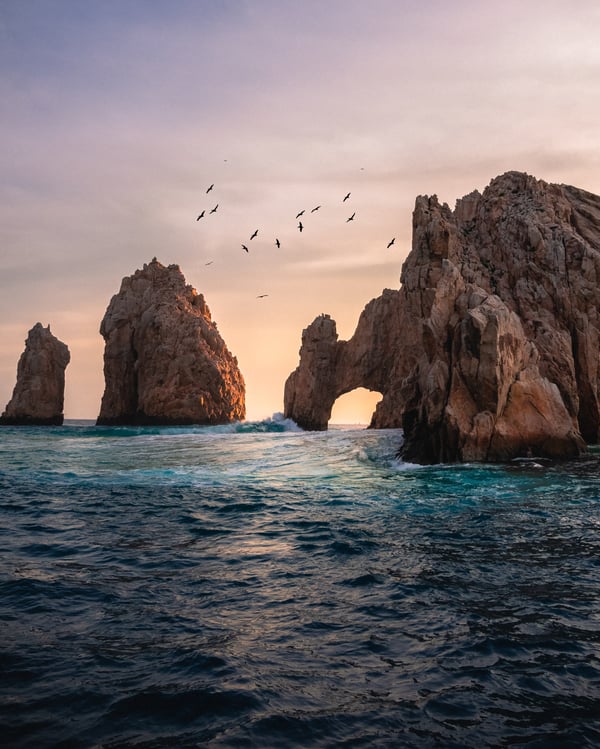 Mexico's wonderful secrets
Everyone's heard of Cabo and Cancun, but Mexico has more. So much more! Here are some of the lesser-known gems in this wonderful country – and each one of them could be worth a week-long trip in itself.
Huatulco
A beachgoer's paradise! This charming town near Oaxaca is a wonderful place to spend a week on the beach. And it's one of Mexico's most forward-thinking destinations, loaded with rules to protect the environment and preserve the ambiance. Buildings cannot be more than six stories tall, and the wonderful, lush surroundings are mostly untouched.
Punta Mita
Just sixteen kilometers north of Puerto Vallarta, you'll feel like you've entered into another world. And a world loaded with glam! From vacation rentals to high-end hotels like the Four Seasons, golf courses, and private beaches, here you'll be able to lay down for a week and truly relax.
Guanajato
Listed as a UNESCO World Heritage site, Guanajuato is a kaleidoscope in every sense of the word: from the bustling plazas to the lovely Mercado Hidalgo, where you can buy authentic souvenirs aplenty. Don't miss the city's famed underground streets and tunnels, which you can explore on a walking tour or at your own leisure.
San Miguel de Allende
Walking the cobblestoned streets in this wonderful mountain city, it will feel like you've stepped back in time. And there's history here for sure: from the days when this was a stopover point for transporting silver out of the mountain mines, to when it fell into disuse, until it was revived by a Chicago native who transformed it into the artist's and expat's hub that it is today.
Zacatecas
Also in Mexico's center, this wonderful, colonial city is a must for history lovers – or anyone who wants to see how the real Mexico is, away from the crowds. The city got its start as a silver mining hotspot – and some of the old mines have become museums today. There's also a nearby hill, the Cerro de la Bufa, where you can ride a cable car to the top and be rewarded with sweeping vistas of the city below.
Mérida
The capital of the Yucatán is sadly overlooked as a tourist destination, with everyone flocking to Cancún and missing out on the wonderful history here. But everything you can do from Cancún – Mayan ruins or pristine beaches – you can do from Mérida. And then some! Wander the Paseo de Montejo, lined with stone mansions, and get a sense of the colonial times at the Sunday Market. Then wrap up the day in one of a dozen quaint boutique hotels.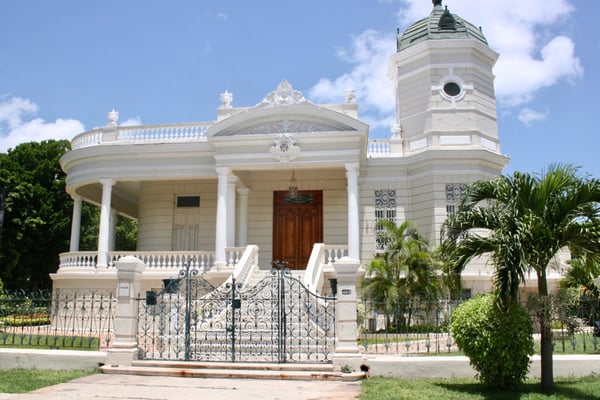 Nature Spots to Visit in Mexico
There are so many reasons to head to this wonderful country just south of the USA. And maybe you weren't thinking that nature was one of them. But Mexico has it all – from snow-capped, lofty peaks to incredible beaches, lined with a hundred palm trees to indescribable cenotes! This country has just about every ecosystem you can imagine, and its national parks are incredible. Don't miss them – not if you make it to the land "south of the border"!
Here are some of the best natural sites that you have to see if you get down to Mexico!
Lake Chapala, Jalisco

: Come for the sunrise and scan the panorama of local boats floating over the water of Mexico's largest freshwater lake. This is true tranquility.

Calakmul Biosphere Reserve, Campeche

: Or if you prefer the jungle, try out some bird watching here on the border with Guatemala. Calakmul is one of the country's largest protected natural areas. It's also home to the Maya ruins of the same name.

Hierve el Agua, Oaxaca

: Petrified waterfalls? Yes, you heard that right. These unique geologic formations are eerie and unreal, and make for a wonderful spot for a hike and a picnic!

Parque Nacional Grutas de Cacahuamilpa, Guerrero

: I hope you're not claustrophobic! Because this site – one of the largest cave systems in the world – is simply stunning!

Las Coloradas, Yucatán

: True to its name (translation: "the colored ones"), the lake here almost seems painted an unnatural red. Unnatural maybe, but eerily beautiful.

Tepozteco Hill, Morelos

: The bizarre thumb-shaped formations here are mirrored in the ancient pyramid. Enjoy history and nature all in one!

Tamul Waterfall, San Luis Potosí

: Nothing really says "nature" like a waterfall. And this beauty – at over 100m high (almost 250ft) – is one of Mexico's largest.

Sumidero Canyon, Chiapas

: Formed around the same time as the Grand Canyon, this is Mexico's response – and a wonderful, lush one at that! Unlike in Arizona, here you're surrounded by water and vegetation.

Rosario Sanctuary, Michoacán

: Butterflies? Each year is witness to a massive migration, where not thousands, but millions, of Monarch butterflies head here, just begging for you to capture them in a photo!

Potrero Chico, Nuevo León

: If you're a rock climber, this is probably what your heaven looks like! Even if you prefer to keep your feet on the ground, the crazy, steep cliffs here will inspire awe from any vantage point.

Basaltic Prisms, Hidalgo

: If you've never seen the "Devil's Postpile" in California, you've never seen the likes of this. Even when you get there, you'll have trouble believing these hexagonal columns are really sculpted by nature – and not aliens!

Popocatépetl-Iztaccíhuatl National Park, Puebla

: Come to the site of two of Mexico's most famous volcanoes, and walk the unreal landscape of black lava and sometimes even snow!
Conclusion
Whether you're a hardcore adventurer or you prefer your vacations to include a beach, a pool, and a spa - ideally in the same complex - the country of Mexico has what you're looking for. From the beaches, reefs, and high-end dining at Cozumel to the brilliant ruins at Tulum of Chichen Itza, Mexico has such a blend of amazing destinations that it will leave any visitor in complete awe.
Download our Mexico Travel Guide now.