WHY WE LOVE HILTON HEAD ISLAND
With its luxurious accommodations, endless lists of things to do, and world-class dining, it's no surprise that Hilton Head Island is one of the Southeast's most popular vacation destinations.
Located off the coast of South Carolina, the island is a renowned resort destination that offers golf, beaches, tennis, scenery, and an endless variety of water recreation. Known for its carefully maintained natural beauty—tall pines, broad oaks, and distinctive palmettos, this oasis has long been one of the East Coast's major resort communities.
Things to Do in Hilton Head
Taking in the natural beauty and wildlife of Hilton Head Island should be at the top of every visitor's list. A simple drive over the J. William Graves Bridge and around the island will provide views of the water and Hilton Head's signature trees—towering pines, palms, and ancient oaks. Throughout the island's development as a tourist destination, which began in the 1950s, nature has been preserved in pristine condition. Charles Sea Pines Resort, with its environmentally sensitive construction standards and community covenants, set the standard for the island and shaped what Hilton Head Island is today.
Harbour Town is Hilton Head's shopping, dining, and entertainment district, as well as a thriving marina with yachts, docked close to the action. The Harbour Town Shops at The Sea Pines Resort are some of the island's finest boutiques.
Beaches, Watersports and Boating
Hilton Head Island is world-renowned for its white sandy beaches, crystal clear warm water, and ease of access, with over 12 miles of breathtaking coastline. Their wide, flat beaches are ideal for visitors because they are easily walkable. The island's expansive waterways are ideal for swimming, fishing, surfing, and a variety of watersports such as jet skiing, kayaking, canoeing, and parasailing. A stroll along the beach, a kayak trip through the saltwater marshes in Pinckney Island National Wildlife Refuge, or a cruise along Skull Creek will bring you up close and personal with the area's lush vegetation and fascinating wildlife—egrets and herons abound, and playful dolphins are known to surface near a passing boat.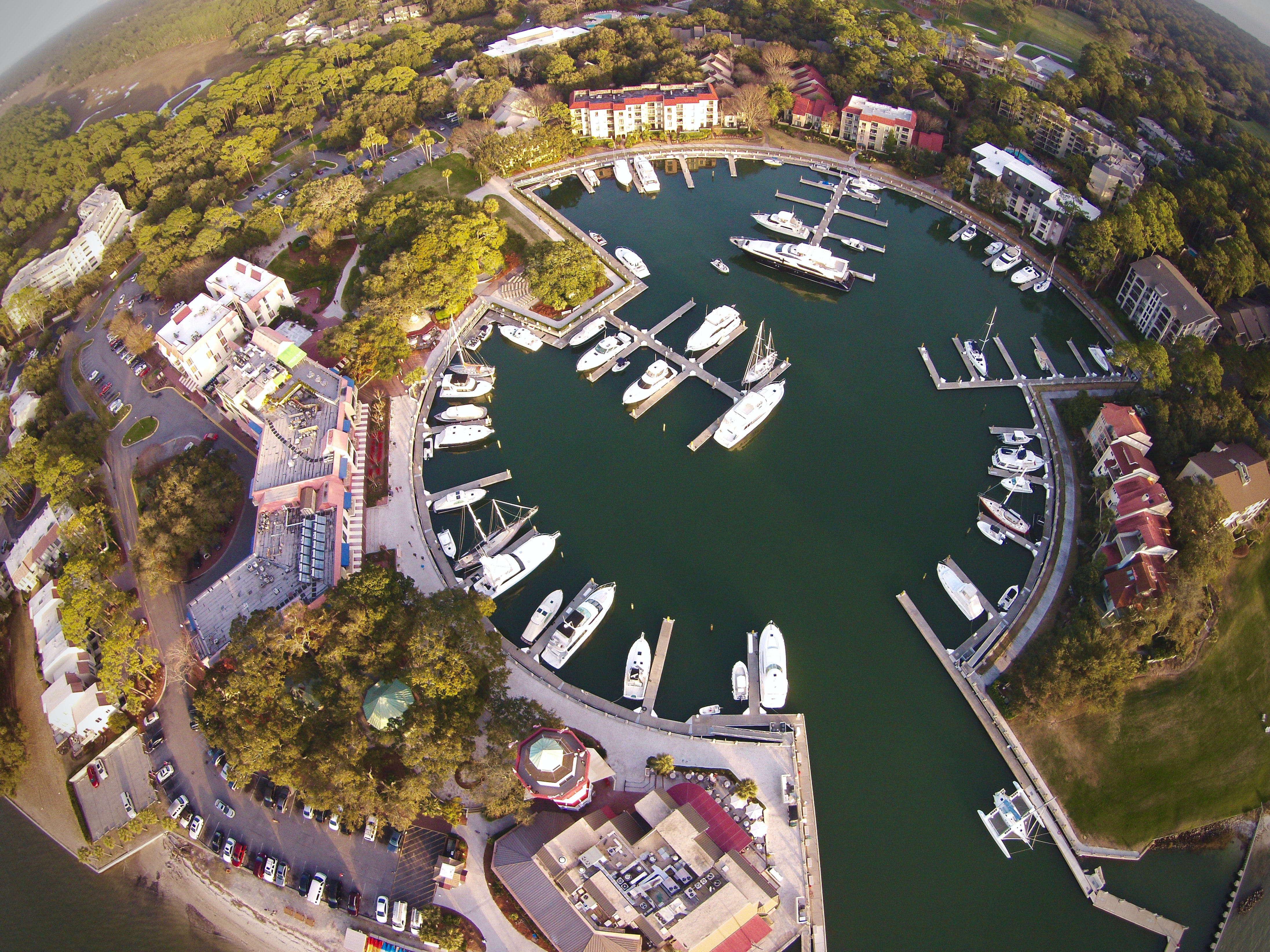 Dolphin and Alligator Tours
It's always exciting to see a dolphin's fin—or a school of them—arch out of the water. Even better, many of the island tour operators offer dolphin cruises or guided dolphin watches, which will allow you to get up close and personal with intelligent and friendly creatures. If you're feeling really adventurous, get up close and personal with Hilton Head alligators by taking one of the tours offered!
Tennis and Golf
Hilton Head is a golfer's paradise –on the island, there are approximately 25 championship golf courses and nearly 300 tennis courts. Home to several of the world's best golf courses and tennis resorts, the island attracts thousands of visitors from all over the world looking for the best golf experiences, top-ranked tennis facilities, and world-class instruction.
Palmetto Dunes Oceanfront Resort and Sea Pines Plantation are two of the most popular tennis and golf vacation destinations. Palmetto Dunes is home to five world-class golf courses and an award-winning tennis center. One of three outstanding courses at the Sea Pines Resort is the highly regarded Harbour Town Golf Links, which hosts the PGA Tour's RBC Heritage tournament.
Shopping, Dining, and Entertainment
Beachgoers, golfers, and spring breakers all flock to Hilton Head in search of a fun night out. And the island does not let you down. There's disco, late-night rock 'n' roll, bars, and clubs on Hilton Head.A trip to Hilton Head isn't complete without a stop at Harbour Town, which is located within Sea Pines Plantation. The location provides a diverse range of fine dining, shopping, and, of course, entertainment.
There's plenty of action in the mid-island area around Palmetto Dunes Oceanfront Resort and Shelter Cove Harbour. Still, the majority of the nightlife takes place on the island's south end, either around The Quarterdeck at The Sea Pines Resort or just outside the Sea Pines' front gate at a cloister of nightclubs dubbed the "Barmuda Triangle." There is also a cluster of bars near the public beach around Coligny Plaza.
Be sure to check out The Jazz Corner music club tucked away in The Village at Wexford, which is one of the best places in the southeast to hear live jazz. Every night, well-known local and national musicians perform. The club focuses on traditional, New Orleans, and mainstream jazz, but some rhythm-and-blues acts are also featured. The food and drinks here are excellent.
Hilton Head also has a strong, vibrant arts community, which includes numerous art shows, galleries, and live theater.
Dining
With over 200 restaurants, Hilton Head Island's dining options will satisfy even the most discriminating palates. Hilton Head is known for its seafood, as one might expect from a barrier-island destination, including popular local dishes like oysters or shrimp and grits. Be sure to check out the iconic Hudson's Seafood House on the Docks with its fresh seafood and waterfront views of Port Royal Sound. There's also an abundance of restaurants with other cuisines available including Italian, Mexican, Asian, and American. You can also dine at a number of restaurants on Hilton Head Island by boat.
Where to Stay
Escape to a relaxing seaside retreat at the Sea Pines Resort which has a wide range of options. They offer a diverse selection of Hilton Head accommodations that cater to every conceivable taste. From the romantic embrace of Hilton Head Island's No. 1 hotel, The Inn & Club at Harbour Town, to luxurious vacation homes for two to twelve guests, options of virtually every shape and size await, ensuring your utmost comfort.
The OmniHilton Head Oceanfront Resort has 28 luxury and oceanfront suites with extra large balconies, but recent guests say the 295 standard rooms are spacious enough and, thankfully, less expensive. These rooms, which underwent a $17 million renovation, now have kitchenettes and private balconies. Travelers unanimously praise the staff's attentiveness. You're right on the water, as the name suggests, but you also have access to adult, family, and wading pools, as well as a fitness center. The grounds also house a popular day spa. Lodgers also have access to the Palmetto Dunes Oceanfront Resort, which has some of Hilton Head's most coveted golf courses and tennis courts.
Hilton Head Island is a great choice for vacation within the United States. With so many options, you're sure to curate a travel experience everyone will enjoy.