What is a "Destination Elopement," you ask? It's a wedding ceremony in which the couple chooses to get married at a location that is away from their home, typically in a location that has special significance to them or that they have always wanted to visit. Destination elopements can take place in a variety of locations, such as beaches, mountains, forests, or even in a different country.
These ceremonies are typically smaller and more intimate than traditional weddings, and often involve just the couple and a few close friends or family members. Destination elopements allow couples to create a unique and meaningful wedding experience that is tailored to their own interests and preferences.
Why Would a Couple Choose to Elope
There are many reasons why a couple might choose to elope, rather than have a traditional wedding with a large guest list. Some common reasons include:
To have a more intimate and personal wedding experience: Eloping allows couples to focus on each other and their relationship, rather than on the expectations and demands of a larger wedding.

To save money: Elopements are generally less expensive than traditional weddings, as they involve fewer guests and often take place at a location that is less costly than a large wedding venue.

To avoid the stress and pressure of planning a traditional wedding: Planning a wedding can be a time-consuming and stressful process, and some couples may prefer to avoid this by eloping.

To have a unique and memorable wedding: Eloping allows couples to choose a location that is meaningful to them, or to have a ceremony that is tailored to their interests and preferences.

To avoid family or cultural expectations: Some couples may choose to elope in order to avoid the pressure or expectations of family or cultural traditions, or to have more control over the planning and design of their wedding.
Ultimately, the decision to elope is a personal one, and each couple will have their own unique reasons for choosing this option.
What is the Average Cost of a Wedding
The average cost of a wedding can vary greatly depending on a number of factors, such as the location, size, and style of the wedding. According to a survey conducted by The Knot, the average cost of a wedding in the United States in 2021 was $33,391. However, this figure can be significantly higher or lower depending on the specific choices made by the couple.
For example, a wedding in a large city or a wedding with a large guest list is likely to be more expensive than a wedding in a small town or with a small guest list. In addition, the cost of a wedding can be affected by factors such as the type of venue, the catering, the entertainment, and the wedding attire. It's important for couples to carefully consider their budget and make informed decisions about how to allocate their resources in order to create the wedding of their dreams.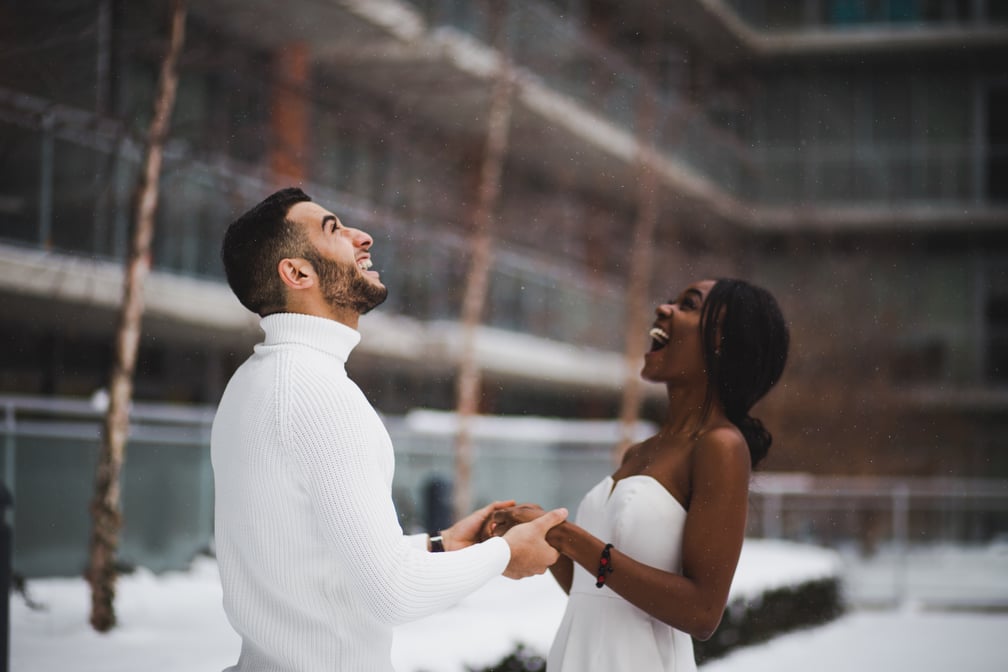 What are the Best Destinations for an Elopement
There are many beautiful and unique locations that would make for an unforgettable elopement destination. Some popular choices include:
Beach locations, such as the Caribbean, Hawaii, or Bali, which offer stunning ocean views and a romantic, laid-back atmosphere.

Mountain locations, such as Banff National Park in Canada or the Swiss Alps, which offer breathtaking natural beauty and a sense of adventure.

Urban locations, such as Paris, New York, or Sydney, which offer a blend of cultural and historical significance with modern amenities and a vibrant atmosphere.

Rustic or rural locations, such as a vineyard in California or a barn in the countryside, which offer a more intimate and relaxed setting for a smaller ceremony.
Ultimately, the best destination for an elopement will depend on the couple's personal preferences and interests. Some couples may prefer a tropical beach setting, while others may be drawn to the rugged beauty of the mountains or the charm and history of an urban destination.
How to Plan a Destination Elopement
If you and your partner have decided that a destination elopement is right for you, there are some things to consider as you plan. Here are some recommended steps when planning a destination elopement:
Choose a location: Decide on a destination that is meaningful to you, or that you have always wanted to visit. Consider factors such as the climate, the availability of accommodations, and the cost of travel and other expenses. Same sex couples should research whether the destination they want recognizes their or permits their marriage. This may determine whether the ceremony is legal versus symbolic.

Determine your guest list: Elopements are typically smaller, more intimate affairs, so consider who you want to invite and whether they will be able to attend.

Research and book your venue: Look into different venue options in your chosen destination, such as outdoor locations, hotels, or event spaces. Consider factors such as the cost, the capacity, and the amenities offered. Many resorts offer a complimentary wedding with a minimum stay.

Obtain any necessary documents or permits: Depending on your chosen location, you may need to obtain a marriage license or other legal documents. Research the requirements in advance and make sure you have everything you need.

Plan your ceremony and reception: Decide on the details of your ceremony, such as the vows, music, and any rituals or traditions you want to include. If you are having a reception, consider the catering, entertainment, and any other details you want to include.

Arrange travel and accommodations: Consider how you and your guests will get to your destination, and make any necessary travel arrangements. Look into accommodations options, such as hotels or vacation rentals, and book them in advance.

Communicate your plans: Make sure to let your guests know about your elopement and provide them with any necessary information, such as travel details and accommodations.
By following these steps and keeping your budget in mind, you can plan a destination elopement that is meaningful, memorable, and stress-free.