Embarking on a European cruise is a dream come true for travelers seeking a perfect blend of breathtaking scenery, cultural immersion, and unparalleled luxury. With a myriad of options available, it's essential to navigate through the choices and find the perfect cruise experience that aligns with your travel preferences. In this guide, we will explore the gems of Europe and delve into the benefits of river cruises versus ocean cruises, discover the best time for river cruises in Europe, provide insights on choosing the right river cruise that matches your unique travel personality, explore why couples love river cruises, discuss what to expect on a river cruise, and delve into the value and costs associated with this remarkable travel experience.

Why Couples Love River Cruises:

River cruises hold a special allure for couples, offering a romantic and intimate setting that enhances their travel experience. The small and elegant vessels create an intimate ambiance, allowing couples to connect with each other while exploring Europe's picturesque waterways. The relaxed pace of river cruises provides ample opportunities for quality time, whether it's savoring a gourmet meal, enjoying a sunset on the deck, or strolling hand in hand through charming towns. Additionally, the carefully crafted itineraries often include cultural excursions and activities that cater to couples' interests, allowing them to create cherished memories together.

What to Expect on a River Cruise:

A river cruise promises an array of exceptional experiences and amenities tailored to make your journey unforgettable. The luxurious accommodations offer comfort and elegance, providing a cozy retreat after a day of exploration. Gourmet dining awaits on board, with delectable cuisine showcasing regional flavors and local delicacies. Cultural enrichment is a hallmark of river cruises, with expert guides leading insightful excursions to historic cities, iconic landmarks, and hidden gems. Onboard entertainment ranges from engaging lectures and performances to themed events and cooking demonstrations. The sense of camaraderie among fellow travelers fosters a welcoming atmosphere, encouraging connections and friendships. Moreover, the breathtaking views from the ship as it navigates Europe's waterways add a touch of magic to the entire experience.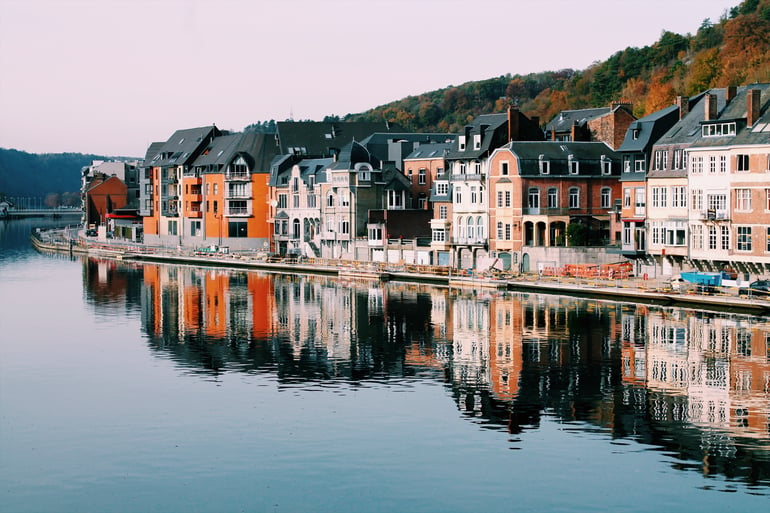 The Benefits of River Cruises versus Ocean Cruises:

River cruises and ocean cruises offer distinct advantages, catering to different travel preferences. River cruises, characterized by intimate vessels, sail along inland waterways, providing a more immersive and intimate experience. These cruises navigate through picturesque rivers and canals, allowing travelers to explore historic cities, charming towns, and stunning landscapes up close. The proximity to the shore and the smaller size of the ships allow for a more personalized and intimate atmosphere. On the other hand, ocean cruises offer a larger scale, with diverse onboard amenities and the opportunity to visit multiple destinations, often spanning across continents. Ocean cruises tend to have a wider range of onboard facilities such as pools, theaters, and multiple dining options. Both options offer exceptional service, captivating itineraries, and opportunities for cultural enrichment. The choice between river cruises and ocean cruises ultimately depends on the type of experience you seek and your preferred travel style.

The Best Time for River Cruises in Europe:

Europe's rivers present breathtaking views year-round, but the best time for river cruises depends on your desired experiences and destinations. Spring (April to June) offers mild weather, blooming landscapes, and fewer crowds. It's an ideal time to witness colorful tulip fields in the Netherlands or explore the stunning Danube River. Summer (June to August) boasts longer daylight hours and warmer temperatures, allowing for leisurely exploration and alfresco dining. Autumn (September to November) brings a tapestry of fall colors, particularly along the Rhine and Moselle rivers. The Christmas season (December) offers magical experiences with festive markets and dazzling lights. Consider your preferred weather, seasonal attractions, and personal preferences when selecting the best time for your European river cruise.

Choosing the Right River Cruise for Your Travel Personality:

When selecting a river cruise, it's important to consider your travel personality and desired experiences. Are you a history buff fascinated by ancient ruins and architectural marvels? Consider cruises along the Danube, Rhine, or Douro rivers, where you can explore iconic landmarks and UNESCO World Heritage sites. Do you have a passion for fine wines and culinary delights? Opt for cruises through France's Bordeaux region or Portugal's Douro Valley, where you can savor exquisite flavors and indulge in wine tastings. If you seek cultural immersion and vibrant cities, cruises along the Seine or Rhône rivers in France provide opportunities to explore charming towns, art galleries, and iconic landmarks like the Eiffel Tower. Each river offers a unique set of experiences, so it's crucial to choose a cruise that resonates with your travel personality and aspirations.

Value and Costs of River Cruises:

River cruises offer excellent value for the experience they provide. The all-inclusive nature of many river cruises covers accommodations, meals, guided excursions, and onboard entertainment, minimizing the need for additional expenses. With fewer passengers on board compared to ocean cruises, service is personalized and attentive. The immersive nature of river cruises allows travelers to explore multiple destinations without the hassle of constant packing and unpacking. However, it's important to consider that certain amenities, such as premium beverage packages or optional excursions, may incur additional costs. Understanding the inclusions and optional extras will help you determine the overall value and budget for your river cruise adventure.
Embarking on a European cruise is a gateway to an unforgettable adventure, immersing you in the gems of Europe's rivers and landscapes. Whether you choose a river cruise or an ocean cruise, both options promise exceptional service, captivating itineraries, and the chance to explore remarkable destinations. Consider the benefits of river cruises versus ocean cruises and select the best time for your river cruise based on weather and seasonal attractions. Choose a river cruise that aligns with your travel personality, ensuring that your journey through Europe's breathtaking waterways is tailored to your unique preferences and desires.
By booking your river cruise through Expedia Cruises, you can take advantage of exclusive deals, promotions, and added amenities. Expedia Cruises Vacation Consultants have access to a wide range of special offers, such as discounted fares, onboard credits, or complimentary upgrades, which enhance the value of your river cruise experience. Additionally, the convenience of booking your entire travel package, including flights, accommodations, and pre- or post-cruise extensions, through Expedia Cruises simplifies the planning process, allowing you to focus on enjoying the journey.