Hey, wanderlust seekers! Are you itching to embark on a mind-blowing cruise adventure through Central and South America? Well, guess what? You don't have to embark from the United States to set sail! Get ready to dive into the captivating world of cruise embarkation ports in Colombia, Puerto Rico, Argentina, Panama, and Peru. In this blog post, we're spilling the tea on these epic ports and the diverse wonders awaiting you in Central and South America. Buckle up, adventurers, because we're about to embark on an unforgettable cruise experience!

Colombia: The Gateway to the Caribbean and Beyond:

Ay, caramba! Colombia is serving up some serious Caribbean vibes as an incredible starting point for your cruise escapades. Set your sights on the lively port city of Cartagena, where history, culture, and natural beauty collide. Explore the UNESCO World Heritage site of the Old Town, boasting vibrant colonial architecture and charming cobblestone streets. And let's not forget about the tantalizing Rosario Islands and their crystal-clear waters. Get ready to soak up the Caribbean atmosphere before setting sail to other jaw-dropping destinations in the region.

Recommended Pre-Cruise Hotel: Experience unparalleled luxury and comfort at the 4-star Hotel Charleston Santa Teresa. Located in the heart of Cartagena's Old Town, this elegant hotel offers stunning views, exquisite amenities, and a rooftop pool overlooking the city. Indulge in the hotel's fine dining options and immerse yourself in the historic charm of Cartagena before embarking on your cruise.

Puerto Rico: Where History and Tropical Beauty Converge:

Hold on tight, amigos! San Juan, Puerto Rico, is the ultimate gateway to the enchanting islands of the Caribbean and beyond. As you embark on your cruise from this vibrant port, brace yourself for a dose of history and tropical paradise. Dive headfirst into the rich past of Old San Juan as you wander through its narrow streets lined with colorful buildings. Don't miss out on exploring the awe-inspiring forts of El Morro and San Cristobal. Oh, and did someone say nightlife? Puerto Rico's got you covered with vibrant rhythms and unforgettable experiences. Extend your stay to soak up the sun on breathtaking beaches and relish the island's delectable cuisine.

Recommended Pre-Cruise Hotel: Indulge in the elegance of the 4-star Condado Vanderbilt Hotel, located in the upscale Condado neighborhood of San Juan. This historic hotel exudes old-world charm and offers luxurious accommodations, world-class dining, and stunning ocean views. Relax in the hotel's spa, take a dip in its infinity pool, and enjoy the vibrant energy of San Juan before embarking on your cruise.
Argentina: Sailing to the Land of Tango and Natural Splendors:

Get your tango shoes ready, folks! Buenos Aires, the cosmopolitan capital of Argentina, serves as a sizzling embarkation port for your South American cruise dreams. Known as the "Paris of South America," Buenos Aires blends European elegance with Latin American flair. Get lost in the passionate rhythm of tango, stroll through colorful neighborhoods like La Boca and San Telmo, and prepare to be blown away by Argentina's legendary beef. But hold your horses, the adventure doesn't stop there! From Buenos Aires, your cruise will take you to jaw-dropping natural wonders like Patagonia, the fjords of Tierra del Fuego, and the awe-inspiring Iguazu Falls. Prepare for a feast for the senses!

Recommended Pre-Cruise Hotel: Immerse yourself in luxury at the iconic 5-star Alvear Palace Hotel. Located in the exclusive neighborhood of La Recoleta, this elegant hotel combines classic architecture with modern comforts. Indulge in its opulent suites, fine dining experiences, and world-class spa facilities. Take the time to explore Buenos Aires' vibrant culture, visit art galleries, and savor the city's culinary delights before embarking on your cruise.

Panama: A Canal and Cultural Crossroads:

Ahoy, explorers! Panama is calling, and it's all about the legendary Panama Canal and its incredible cultural blend. As you embark on your cruise from Panama City, get ready to witness the engineering marvel that is the Panama Canal. Picture this: massive ships gracefully passing through intricate lock systems—now that's a sight to behold! After marveling at this feat, venture into the lush rainforests of Panama's interior, mingle with indigenous communities, or explore the bustling markets of Panama City. From Panama, your cruise can whisk you away to paradisiacal destinations like the San Blas Islands or other gems across Central and South America. Adventure awaits!

Recommended Pre-Cruise Hotel: Experience modern luxury at the 4-star Bristol Panama, located in the heart of Panama City's financial district. This boutique hotel offers stylish rooms, exquisite dining options, and a rooftop pool with panoramic city views. Immerse yourself in Panama's vibrant culture, explore the historic Casco Viejo neighborhood, and indulge in the hotel's spa facilities before setting sail on your cruise.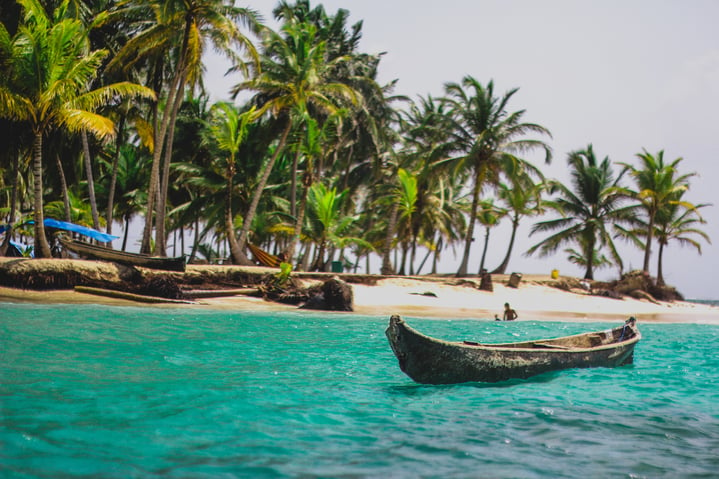 Peru: From Ancient Ruins to Natural Wonders:

Hola, amigos! Lima, the capital of Peru, is your ticket to a thrilling embarkation port that combines ancient ruins and awe-inspiring natural wonders. Ready to channel your inner Indiana Jones? Explore the mystical ancient ruins of Machu Picchu, a bucket-list destination that will leave you in awe. And if you're up for some Amazonian magic, delve into the heart of the mighty rainforest for a wildlife extravaganza. But hold up, the adventure doesn't end there! Hop on your cruise ship from Lima and set sail to the captivating Galapagos Islands, the breathtaking Chilean fjords, or even the legendary land of ice and penguins—Antarctica! Prepare to be mind-blown!

Recommended Pre-Cruise Hotel: Experience modern sophistication at the 5-star Belmond Miraflores Park Hotel, located in the upscale Miraflores neighborhood of Lima. Enjoy luxurious accommodations, panoramic ocean views, and world-class dining options. Take the time to explore Lima's rich history, visit the Larco Museum, and indulge in Peru's renowned gastronomy before embarking on your cruise.
Conclusion:
Embarking on a cruise through Central and South America from the captivating ports of Colombia, Puerto Rico, Argentina, Panama, and Peru is an extraordinary way to explore exotic destinations without the need to return to the United States. Each port offers unique experiences and serves as a gateway to a world of cultural immersion, natural wonders, and unforgettable adventures.

Get ready to set sail on a remarkable journey through the wonders of Central and South America, booking through Jenita Lawal, Vacation Consultant with Expecia Cruises, for a seamless and unforgettable cruise experience. ¡Vamonos!